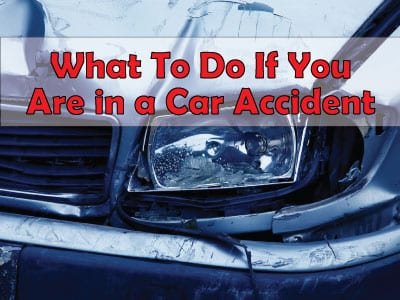 Nobody wants to be involved in a car accident. But should that happen, it is helpful to have some of the necessary information readily available. Being prepared in advance and knowing what to do and what not to do can be very helpful.
Info to Have Available
(The Glovebox Is a Good Location to Keep these documents)
Insurance ID Cards
Vehicle Registration
Emergency Contacts
Health Insurance Cards
Make sure your phone is charged
If your insurance company has Mobile app., have it installed on your smart phone. It'll come in super-handy at the accident scene and throughout the car repair process.
Safety
If it is a minor accident, move the vehicles to a safe place out of the way of traffic.
Make sure your car is in park, turn off your vehicle and turn on the hazard lights.
In some situations you can use cones, warning triangles or flairs for added safety.
Assess Damages – Call for Help
Are you or anyone in your car or the other car injured? If anyone is hurt, call 911, don't move them and wait for help.
Do not leave the scene of the accident.
Calling 911 will notify all emergency vehicles for your situation.
If your car is not drivable you need to call for roadside assistance, this may be an option of your insurance company.
Gather Information
Drivers and passengers: names and contact information
Vehicle descriptions (make, model, year)
Driver's license numbers
License plate numbers
Insurance companies and policy numbers
Eyewitnesses: names and contact information
Accident scene location and/or address
Police officer's name and badge number.
If possible, use your cell phone to take photos of all vehicles involved and the accident scene.
Do not sign any document unless it's for the police or your insurance agent.
Be polite, but don't tell anyone the accident was your fault, even if you think it was. You will speak to your insurance company and they will contact the other driver's insurance company.
Get in Touch with Your Insurance Company.
As soon as possible notify your insurance company.  Give them as many details as you remember and have collected.
After An Accident
If you require medical treatment, keep records of treatment and bills you pay. Don't rush to accept an Early Settlement Offer. The other driver's insurance company may want you to accept an early settlement. Do not sign off on the claim until you have received all of the medical treatment required. If you accept an early settlement or sign off before all of your medical treatment is done, you will be responsible for any additional costs. You want to be completely honest in your recollection of the accident but you are protecting own interests in this situation. Remember to be very careful when you're speaking to the insurance company of the other driver. The other insurance company or the other attorney is looking out for the best interests of their driver. It is advisable that you have them speak to either your attorney or your insurance company to perhaps arrange a meeting. It means you not only have another party working with you but you're also communicating to the other side you need to be taken seriously.
Car Repair
You will be working with your insurance company to have your car repaired.  The process is different for each insurance company but usually you will have your car evaluated by an adjuster. Then you will choose the shop to perform your repairs. Auto accidents are a very emotional experience. If you have thought through what you need to do before this might happen, it will save you stress and trouble as you complete the process.