Tempe BMW & Mini Cooper Repair
Over 25 years strong. Beyer Motor Works is the premier BMW/Mini Cooper car care and maintenance services center with two
BMW MASTER MECHANICS.
Click To Call Now - (480) 961-9449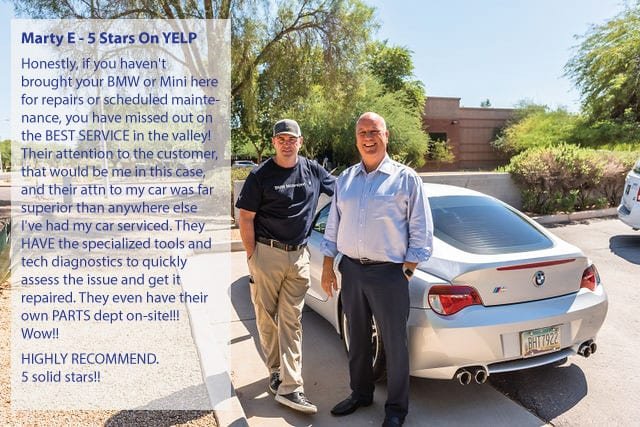 friendliness and the fairness
"I had a very positive experience working with the good folks at Beyer Motor Works. I took my 2009 Z4 in for a brake job as well as a few additional minor repairs and I met some very qualified professionals. They kept me well-informed of the repairs, explaining everything in excellent detail. They performed all repairs as promised with appropriate turnaround time. I appreciated the friendliness and the fairness of the price. They even gave me rides to and from my house! I would highly recommend Beyer Motor Works."   – Bob Larkin
Excellent service
" Excellent service inside and out. Everyone involved worked to fix my car at a fair price without just billing me. It was nice to be able to talk to them instead of just being told by a mechanic what "has" to be done. Thanks for all you did for me."   – Phil McDonald
the best possible treatment.
"This is a GREAT place to take your new or classic BMW. Doug & Doug are very friendly and answered all my questions. The best part is that the Service Manager and most of the mechanics are BMW owners/enthusiasts so you know your car will receive the best possible treatment."   – Irwin Daugherty
TOP NOTCH QUALITY WORKMANSHIP!
"I brought my BMW Z4M with 169000 miles in for its due maintenance 2 inspection. They did everything to spec and found more repairs that were required. Their quality is evident the minute you drive off in your ride! The car drives like a dream!! TOP NOTCH QUALITY WORKMANSHIP!!! I own many other BMW's and they are coming here for all service!!!"   -Martin Ercoline
Highly recommend Beyer Motor Works
"I chose this shop based on their reputation and on the recommendation from a friend I trust – had my 2006 Z4M serviced and was very happy with their work. Competitive rates, skilled techs and the work was completed on time as quoted. Very good place to have your vehicle serviced. Highly recommend Beyer Motor Works."   – Joseph Dawson
BMW & MINI COOPER REPAIR SHOP
Independent Tempe, AZ BMW and Mini Cooper repair shops can save you from unnecessary expenses on unnecessary repairs. We know that mechanical failures in Mini Coopers and BMWs can make people stressful. You also know that it will probably cost you quite a bit of money. Plus, the pangs of not driving your favorite car make you miss your precious ride. But don't worry; we are here with a surefire way to put this misery out of your mind. Our experienced technicians know Mini Coopers and BMWs in and out. We can repair your vehicle without spending a fortune.
What we promise
Most people consider taking their BMWs to their nearest dealership whenever they experience mechanical failures. This decision often turns out to be immensely expensive. Moreover, you feel you don't have any options because dealerships have top-notch technicians for different brands of cars. Allow us to intervene here. The technicians of Beyer Motor Works have enough knowledge to compete with official technicians from BMW and Mini Cooper. Don't believe us? Here is a quick reminder of why you should trust us:
Our services
Our auto repair shop in Tempe, Arizona, employs certified mechanics who have extensive knowledge of the latest automotive technologies. They know how to handle different repair parts of BMWs and Mini Coopers and repair your car quickly.
We cover almost every type of repair service you can think of.
• Engine repair
Mini Coopers and BMWs come with powerful engines. However, these machines can also run into mechanical failures. Depending on the issue, we can inspect every inch of your engine, use smoke testing intake system to check air leaks, install new spark plugs, clean the entire fuel system, and replace air and fuel filters.
• Oil change
We have provisions for both conventional oil and synthetic oil. Personally, we recommend changing your vehicle's synthetic oil every six months. On the other hand, you should change conventional oil every three months. Our oil change service also includes a comprehensive 25-point vehicle inspection to test your car's performance.
• Brake repair
Annual inspections of your Mini Cooper or BMW can help find out if their breaks work correctly. Vibrations on your brake pedal are a clear sign that it requires immediate servicing. Bring your vehicle to us. We will diagnose the problem in detail and offer quick remedies to avoid brake failures.
• Radiator repair
Like humans, your BMW or Mini Cooper can also have a fever. But they cannot heal naturally. That's where we come in. Radiators can get excessively hot sometimes. It can also prevent your car from starting. Allow us to use our specialized equipment to determine the accurate problematic areas of your vehicle's radiator. Our certified technicians will diagnose the issues, perform several tests, and replace the radiator if required.
• Scheduled maintenance
No one wants to send their car for servicing unless something significant happens. That's not how you should treat your Mini Cooper or BMW. Like annual health checkups, you should also send your car for scheduled maintenance. This ensures that you don't have to spend big on significant repairs.
With more than two decades of experience under our belt, you can trust us with your eyes closed when it comes to repairing your Tempe, AZ BMW or Mini Cooper. Call us at (480) 961-9449 to get a free quotation today.
In 2000 we took our expertise to the next level and joined an International group of BMW service shops known as IAIBMWSP. IAIBMWSP's purpose matched our own: the highest level of BMW repair and service. Since then IAIBMWSP has become the BIMRS organization. BIMRS is world renown for BMW training and the exchange of technical information. Members of this elite group connect online to develop an expanded wealth of expertise and knowledge that is second to none. Just 3 years later in 2003, Beyer Motor Works was proud to add Mini Cooper to the service line up. Mini Cooper shares a lot of its technology with its parent company BMW and is an exciting car in today's market.