Scottsdale BMW & Mini Cooper Repair
Over 25 years strong. Beyer Motor Works is the premier BMW/Mini Cooper car care and maintenance services center with two
BMW MASTER MECHANICS.
Click To Call Now - (480) 961-9449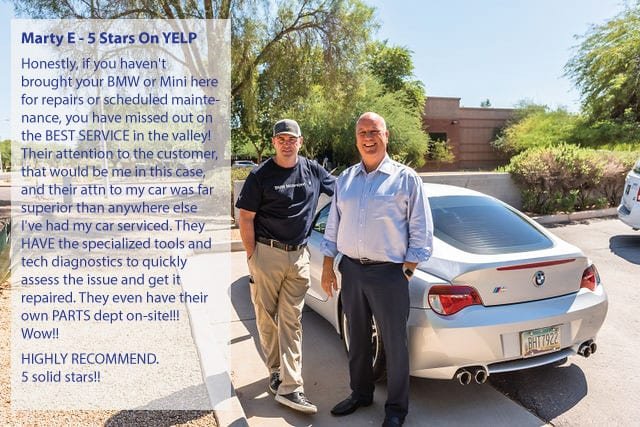 friendliness and the fairness
"I had a very positive experience working with the good folks at Beyer Motor Works. I took my 2009 Z4 in for a brake job as well as a few additional minor repairs and I met some very qualified professionals. They kept me well-informed of the repairs, explaining everything in excellent detail. They performed all repairs as promised with appropriate turnaround time. I appreciated the friendliness and the fairness of the price. They even gave me rides to and from my house! I would highly recommend Beyer Motor Works."   – Bob Larkin
Excellent service
" Excellent service inside and out. Everyone involved worked to fix my car at a fair price without just billing me. It was nice to be able to talk to them instead of just being told by a mechanic what "has" to be done. Thanks for all you did for me."   – Phil McDonald
the best possible treatment.
"This is a GREAT place to take your new or classic BMW. Doug & Doug are very friendly and answered all my questions. The best part is that the Service Manager and most of the mechanics are BMW owners/enthusiasts so you know your car will receive the best possible treatment."   – Irwin Daugherty
TOP NOTCH QUALITY WORKMANSHIP!
"I brought my BMW Z4M with 169000 miles in for its due maintenance 2 inspection. They did everything to spec and found more repairs that were required. Their quality is evident the minute you drive off in your ride! The car drives like a dream!! TOP NOTCH QUALITY WORKMANSHIP!!! I own many other BMW's and they are coming here for all service!!!"   -Martin Ercoline
Highly recommend Beyer Motor Works
"I chose this shop based on their reputation and on the recommendation from a friend I trust – had my 2006 Z4M serviced and was very happy with their work. Competitive rates, skilled techs and the work was completed on time as quoted. Very good place to have your vehicle serviced. Highly recommend Beyer Motor Works."   – Joseph Dawson
BMW & MINI COOPER REPAIR SHOP
What's the first thing that comes to your mind when your Mini Cooper stops suddenly? Your inability to drive your favorite car for a few days, right? Another thing that immediately haunts you is the trouble of taking your vehicle to its nearest  Scottsdale, AZ service center. It takes significant time to explain everything in detail. You also have to consider the cost of repairing your car. Official service centers charge a lot every time your car malfunctions. You can save hundreds if you choose us. Beyer Motor Works can repair any model of Mini Cooper or BMW quickly without charging a fortune.
How we work
We follow a simple working procedure. You should visit our site to book an appointment. Fill out your name, email address, phone number, and car details. Make sure you mention the car's make and model. Select two appointment dates that you prefer. Let us know in detail about your BMW or Mini Cooper's malfunctions. Specify which parts don't work and for how long you've been dealing with the problem.
Beyer Motor Works has more than 30 years of experience in the car repair industry. We only hire certified and experienced technicians who specialize in repairing Mini Coopers and BMWs. They will make a list of necessary repairs your car needs and also provide an approximate quotation. You can hand over your car keys to our technician. We will make sure you get your car back quickly in its proper working condition.
Extensive range of services 
Whether it is one of the oldest models of Mini Cooper or the latest BMW sedan, we can handle any car that comes to your mind. Our immense experience in this industry, together with state of the art tools, allows us to repair any parts of your Mini Cooper or BMW efficiently. Let's take a look at some of our services.
1. Tire replacement
Every Mini Cooper and BMW comes with an owner's manual. It specifies when you need to inspect your tires and replace them if required. You can refer to your car owner's manual or trust us to give a detailed overview of your tires' condition. Tires with no grips are not safe on the road. Don't hesitate to call us if you skid a few times with your car on wet surfaces. 
Our certified technicians will replace your tires quickly. Sometimes cutting treads of your tires and repairing their punctures can solve the problem temporarily. But we advise you to replace them if you notice your car skidding even on dry surfaces.
2. Electrical service
BMWs and Mini Coopers have three crucial electrical components: starter, alternator, and battery. All Mini Coopers and BMWs require specific batteries registered and programmed for their specific models. We can do that without charging hundreds of bucks. Beyer Motor Works doesn't want you to stay away from your car for long. We fix your vehicle's battery, alternator, and starter, all within a few days so that you can resume driving again.
3. AC repair
Our AC repairs for Mini Coopers and BMWs involve the following:
• Scanning your vehicle's HVAC model with our key operating parameters. It helps us detect the accurate location of your AC's fault.• Inspecting all cooling fans to check their optimum performance.• Performing vacuum tests on your car.• Recovering refrigerant from your vehicle's system.• Checking all heating and cooling components for possible leaks.• Checking for damages or cracks on your AC's drive belt.• Inspecting the AC's compressors thoroughly.
4. Radiator
Radiators use a liquid coolant to lower the temperature produced by your car's engine. A struggling radiator cannot keep your car's temperature under control. Our technician will diagnose your BMW's or Mini Cooper's radiator and provide the most accurate service to bring it back to life. Leaks, corrosion, and blockages are a few reasons that can damage your car's radiator. Come to us for a full inspection to cure your vehicle's disease.
Now that you know what we are capable of, if you're in Scottsdale, AZ, don't hesitate to call us or make an online appointment. Give us a ring at (480) 961-9449.
In 2000 we took our expertise to the next level and joined an International group of BMW service shops known as IAIBMWSP. IAIBMWSP's purpose matched our own: the highest level of BMW repair and service. Since then IAIBMWSP has become the BIMRS organization. BIMRS is world renown for BMW training and the exchange of technical information. Members of this elite group connect online to develop an expanded wealth of expertise and knowledge that is second to none. Just 3 years later in 2003, Beyer Motor Works was proud to add Mini Cooper to the service line up. Mini Cooper shares a lot of its technology with its parent company BMW and is an exciting car in today's market.