Gilbert BMW & Mini Cooper Repair
Over 25 years strong. Beyer Motor Works is the premier BMW/Mini Cooper car care and maintenance services center with two
BMW MASTER MECHANICS.
Click To Call Now - (480) 961-9449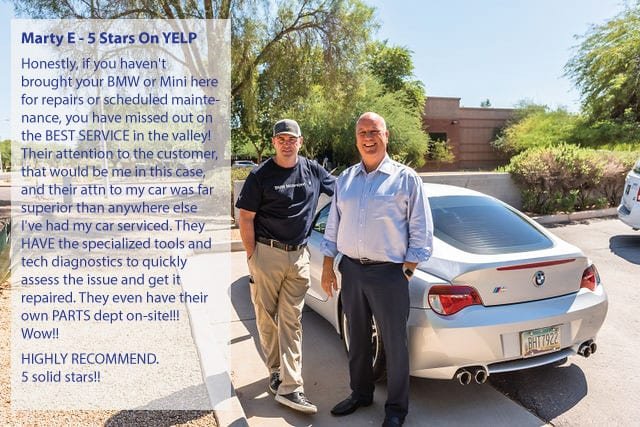 friendliness and the fairness
"I had a very positive experience working with the good folks at Beyer Motor Works. I took my 2009 Z4 in for a brake job as well as a few additional minor repairs and I met some very qualified professionals. They kept me well-informed of the repairs, explaining everything in excellent detail. They performed all repairs as promised with appropriate turnaround time. I appreciated the friendliness and the fairness of the price. They even gave me rides to and from my house! I would highly recommend Beyer Motor Works."   – Bob Larkin
Excellent service
" Excellent service inside and out. Everyone involved worked to fix my car at a fair price without just billing me. It was nice to be able to talk to them instead of just being told by a mechanic what "has" to be done. Thanks for all you did for me."   – Phil McDonald
the best possible treatment.
"This is a GREAT place to take your new or classic BMW. Doug & Doug are very friendly and answered all my questions. The best part is that the Service Manager and most of the mechanics are BMW owners/enthusiasts so you know your car will receive the best possible treatment."   – Irwin Daugherty
TOP NOTCH QUALITY WORKMANSHIP!
"I brought my BMW Z4M with 169000 miles in for its due maintenance 2 inspection. They did everything to spec and found more repairs that were required. Their quality is evident the minute you drive off in your ride! The car drives like a dream!! TOP NOTCH QUALITY WORKMANSHIP!!! I own many other BMW's and they are coming here for all service!!!"   -Martin Ercoline
Highly recommend Beyer Motor Works
"I chose this shop based on their reputation and on the recommendation from a friend I trust – had my 2006 Z4M serviced and was very happy with their work. Competitive rates, skilled techs and the work was completed on time as quoted. Very good place to have your vehicle serviced. Highly recommend Beyer Motor Works."   – Joseph Dawson
BMW & MINI COOPER REPAIR SHOP
Cars don't last forever. Even the most expensive ones like Mini Coopers and BMWs experience mechanical failures. What if your BMW has a faulty fuel pump? Or maybe your Mini Cooper's brake doesn't work correctly. You may want to contact your nearest Gilbert, AZ dealer or BMW's nearest service center. But do you know how much you need to pay for its repairs? It usually turns out to be a staggering amount.  
Spending thousands on BMW and Mini Cooper repairs from official service centers don't make sense, especially when you have better and cheaper alternatives. At Beyer Motor Works, we provide extensive repairs for all BMW and Mini Cooper models. You don't have to worry about sky-high repair costs because we charge reasonable prices for our services. Wondering what type of services we can offer to your Mini Cooper or BMW? Keep reading.
1. Wheel alignment
We request you not to take incorrect wheel alignment lightly. It will eventually increase your repair charges. Instead, come to us whenever you feel your BMW isn't moving too swiftly. We have experts who can align your car's wheel quickly. Correct wheel alignment can improve your car's handling, tire's wear and tear, and gas mileage. 
Our technicians have already replaced countless of misaligned Mini Cooper wheels. They believe that poor alignment shortens your tires' life and damages them prematurely. Your left and right tires need to work together to support the weight of the vehicle. Even a misalignment of a few millimeters can cause significant damage to your car.
2. Cabin air filter
Your Mini Cooper or BMW has a similarity with your house. Ask how. Well, your home's heating or cooling system uses filters to absorb air pollutants and bad odors. They prevent your house from smelling and offer fresh air. But you need to change these filters now and then because they get clogged due to accumulated pollutants. Your BMW or Mini Cooper also follows this same function.
These cars come with advanced cabin air filter systems. Some of the latest models also have multiple cabin air filters to offer dual climate control. They contain a replaceable filter to ensure fresh air flow in your car. We can replace those filters quickly. Our technicians know the mechanism of different BMW and Mini Cooper models. You don't have to wait for days to get your car. Sometimes we even provide same day service, depending on your car's issue.
3. Fuel pump
The fuel pump is your engine's heart. Your car will not start if the fuel pump doesn't work correctly. Instead of fiddling with the engine, get in touch with Beyer Motor Works. We can ensure that your BMW's fuel pump transfers stored fuel into its gas chamber so that the carburetor can make your engine operate correctly. 
Your vehicle's fuel pump provides consistent fuel flow at different pressures according to its engine's requirements. We often come across blocked fuel pumps that need immediate cleaning. Some pumps get so clogged that we have no choice but to replace the entire pump. Handling these parts requires three things: time, patience, and lots of experience. We have all three aspects of handling your BMW's fuel pump efficiently.  
4. Suspension
The suspension on Mini Coopers and BMWs is superior to most cars. It offers more safety and comfort in rough terrains. That doesn't mean the suspension will work for eternity. Sometimes the integral components of your BMW's suspension system take a lot of beating before wearing out. You may not feel as comfortable as before while riding. This calls for immediate suspension repairs. We advise you to check the suspension after every 50,000 miles. It will keep your vehicle in good shape and make you feel comfortable at intricate turns and rough roads.
Why Beyer Motor Works?
With over three decades of experience in the car repair industry, we can assure you that our high-quality services will not disappoint you. We have quick turnaround times for almost every BMW and Mini Cooper repair service. Plus, Beyer Motor Works offers extended warranties so that you don't have to come back again. 
We are confident that our technicians will make your car work normally again. Call us today at (480) 961-9449 to get a free quotation for your Gilbert, AZ BMW or Mini Cooper's repair services.
In 2000 we took our expertise to the next level and joined an International group of BMW service shops known as IAIBMWSP. IAIBMWSP's purpose matched our own: the highest level of BMW repair and service. Since then IAIBMWSP has become the BIMRS organization. BIMRS is world renown for BMW training and the exchange of technical information. Members of this elite group connect online to develop an expanded wealth of expertise and knowledge that is second to none. Just 3 years later in 2003, Beyer Motor Works was proud to add Mini Cooper to the service line up. Mini Cooper shares a lot of its technology with its parent company BMW and is an exciting car in today's market.