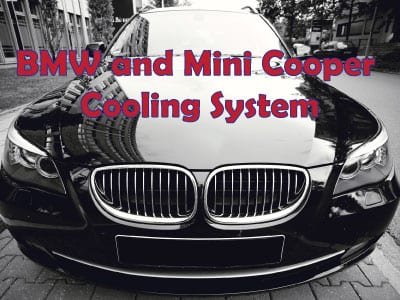 Service and Maintenance for a BMW and Mini Cooper Cooling System
BMW's and Mini Coopers are known to be high performance and superior automobiles that provide users with great comfort and long durability. As with all cars, both of these vehicles can experience an issue with the cooling system. As time passes, the cooling system can damaged or develop leaks. These may lead to overheating and negatively affect the performance of the engine. A cooling system is a very essential part in your vehicle. Maintaining it helps minimize the possibilities of engine damage caused by overheating. Below is the guide to Service and Maintenance for a BMW and Mini Cooper Cooling System by the major parts of the system.
Water Pump
Make sure the pipes are connected tightly and produce no noise when the engine runs.  According to the service recommendations for your vehicle, you can adjust or replace the water pump belt to improve efficiency.
Fan
Verify the fan harness and blade are free from damage and rust, and that the fan runs rapidly without any noise or disruptions.
Radiator
Ensure the radiator free from rust and that the PSI level is within 2. Take your vehicle to experts mechanics regularly for inspection and maintenance to prevent overheating.
Hoses
Inspect the hoses to make sure they are free from damage and rust, and they are connected tightly to their places.
Coolant Fluid
Confirm that it is filled to the marked level to prevent overheating. Top up in case it is below the marked level or completely replace it with new fluid.
Leaks
Use dye or pressure testing to find any leaks and fix them.
Conclusion
All parts of your BMW's or Mini Coopers needs to be inspected regularly to ensure efficiency and proper functioning of every part. With the above guidelines, you will be able to ensure that your vehicle's cooling system is in good working condition.